October is Breast Cancer Awareness Month.It is almost the end of October, but I wanted to touch on this subject anyway because it is extremely important.
In North America, breast cancer is the most diagnosed cancer each year.
200,000 new cases are diagnosed each year, and approximately 65,000 die each year.
While you can get breast cancer at a young age, the risk of being diagnosed with breast cancer increases with age. It's important to do a monthly self-examination, so I have found the information online to help you in doing so. It only takes about 5 minutes, and is very important so that nothing goes undetected. You can check out the very easy, well-explained steps
HERE
.
While there is only a few days left in the month, I wanted to also tell you about Eden Fantasys sale that is going on until October 31. Right now they have a sale supporting breast cancer. You'll receive 25% off Evolved
sex toys
, and a proceed of the sale goes to the Save the Ta-Tas foundation. Is that not great? Not only do you get a discount, but you are also supporting breast cancer awareness, treatment, etc.
Another great
sale
they have going on (
although it ends tomorrow, Oct.28
), is when you purchase any pink lingerie, you'll receive a free Faith Vibe with your purchase! A proceed of this sale also helps support the save the tat-tas foundation. I usually buy my lingerie from
Eden Fantasys
anyway, so to be able to get a free vibrator, and know that I am helping support the foundation makes it that much easier to know where I want to shop. Here is a photo of the adorable vibrator that you get free with your purchase: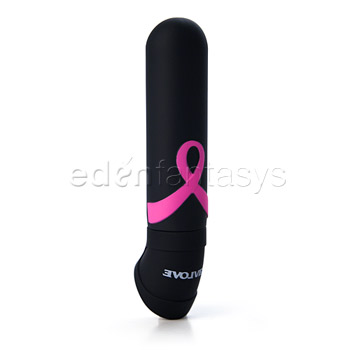 I've always found it very appealing when a big business takes the time to reach out to customers and help a foundation, event, etc. Not many businesses will give you a discount on the products, and then tell you that a portion of the proceeds go to the cause. Most of the time, the company will ask for donations on the business' behalf, or will charge you full price, and then take a microscopic percentage of your purchase and donate it. That's why Eden Fantasys is the best. They want to make a change, and I hope you do too!