Halloween is soon approaching us and I am wondering if everyone has got their costumes ready. What will you be dressing up as? Some people wear the traditional costumes and others like to be unique.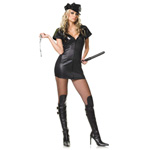 When it comes to costumes I think it is fun to dress up sexy and what better way then to order from
edenfantasys as they have some cute costumes and when you order you also receive a free gift. The costume can double up as a Halloween costume as well as an outfit for a hot steamy night.
There are many awesome sales on this site right now and you can get in on the deals.
My favorite costume is the sergeant sexy costume, but there is a vast array to choose from.
Some of the
sex toys
are 20 % off right now but they also carry some other great products like candles, massage oils etc. You need to hurry so you don't miss out on this!!!
Here is another event that is happening for Halloween listed below.


The Treat is you can save 30 % on some great items. The are also having a Halloween contest and you can win some great merchandise.
for more details on the sale and to enter the contest
click here
Come and check them out today!!! If you do decide to order anything use this code
SZE
and save even more.
I am also running a contest for a chance to win a $25 EdenFantasys gift card so be sure to go to my current giveaways page on the right hand side to enter.